Personalized Baby Gift Ideas
A personalized baby gift is a gift that will truly have meaning to the new mommy and daddy and the baby alike. These are the kind of gifts that will be remembered for years to come, and hopefully kept on a shelf or in a hope chest long after the baby has outgrown them. Do the Mom and Dad know the baby's gender already? Have they picked out a name yet? Great! Choose a baby gift that is customized with the baby's name or initials. You can also choose to give a gift personalized to the Mom and Dad themselves.

There are so many options when choosing a personalized baby gift. From creating a photo gift to a monogrammed or engraved item. I want to share with you my top picks for giving a great personalized baby shower gift that your friends will love.



Personalized Baby Shower Gift Ideas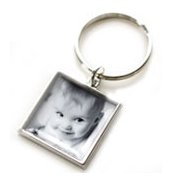 A personalized baby photo gift could feature anything from a photo of the famous baby belly, to an ultrasound photo, or a photo of the lucky expecting couple. A really cute and whimsical gift is if you can somehow get the expecting father or Grandma to encourage Momma-to-be to paint her belly and take a photo for her baby book or pregnancy journal. And of course, later on when the little one makes her appearance you can make a baby photo gift!



---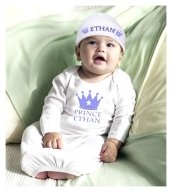 Personalized baby clothing is a sure fire winner for a baby shower gift idea! New moms absolutely LOVE baby clothes! You can have their baby's clothing monogrammed or embroidered with their initials or name if Mom has picked one out. No name yet? No problem! Get thoughtful and come up with a cute saying that is meaningful to the new Mom and Dad. Or maybe even a picture or their favorite band. The more thoughtful and out of the box you get the more blown away they will be by your super thoughtful and unique baby shower gift. Personalized baby clothing gift ideas...
---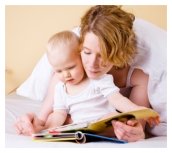 Studies show that reading to babies, even from a very young age, can be very beneficial. Books are a great gift also as they will last fro a great time to come. My daughter is 3 now and I am still reading some of the same books to her that I read when she was an infant. So how about personalized baby books as a special and unique baby shower gift? You can have baby books printed up with baby's name inserted within the story of the book. Or why not even make up some books and stories of your own and have them printed? A gift idea most any Mommy will love!
---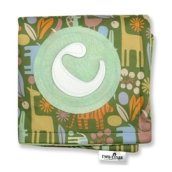 A Personalized Baby Blanket. Baby blankets are one of those tried and true baby shower gifts that all moms will want or need at some time or other. They are a staple and will be long used as well. So why not personalize it with some embroidery or a monogram? A great and simple personalized baby gift.
Personalized Baby Blanket Gift Ideas...
---