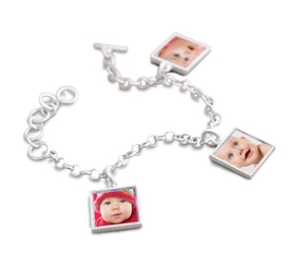 What mom would not want some jewelry personalized with a photo of her baby?! You can have jewelry made with pictures, and even engraved with names and dates! So sweet and beautiful! She will LOVE it!
You can find some really great jewelry artists willing to make personalized baby photo gift jewelry for very affordable prices by shopping around ar Etsy.com. It is by far one of my favorite places to shop when searching for a unique gift item of any sort.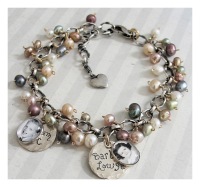 I also really like the sterling silver custom jewelry you can order through Snapfish.com. The prices are good and the photos are made to be water resistant. They come in a gift box as well.
If you are looking for something really breathtaking and special then definitely take a browse arund the personalized jewelry at Dimples and Dandelions. My personal favorite is their pearly photo charm bracelet. You can have up to 8 photos added. The bracelet is adorned with a multitude of fresh water pearls. Very pretty!
Photo Keychains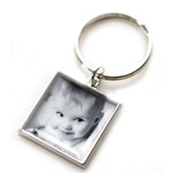 Useful and cute. This is also a great gift to slip in with a diaper bag or baby carrier.
I really like to get my keychains made from an artist at artfire.com who makes them from a barbell style keychain and will add a script message and even Swarovski crystals, for an extra fancy keychain.
you can also find a more traditional and plain keychain at Snapfish.com.

Photo Books and Calendars
My favorite idea? Talk the expecting mom into taking monthly pictures of her belly from the side angle. Take them from very early on and up to the 9th month of pregnancy. Then make a calendar out of all of the pictures or a photo flip book of sorts! A seriously great gift!
I like to use Snapfish.com to make my personalized calendars and photo books. They have a good selection of themes and colored backgrounds to use with your photos and the quality is great!
Personalized Photo Mugs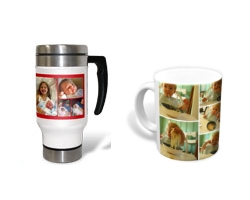 Have a mug personalized with baby belly or ultrasound pictures along with the due date. Very sweet gift and keepsake.
I love to give these as gifts! I have been know to give these as baby gifts, but also get them made with my own kids pictures for our own cupboards and to give to family on holidays. So cute and very useful too! I buy my mugs at Snapfish.com. Remember not to wash them in the dishwasher though or they will fade over time.



Baby-shower-gift-ideas.com merely shares thoughts and opinions on baby products and baby gift ideas and cannot be held liable. If you happen to be disatisfied with a product or gift you purchase please take any complaints or refund requests to the company or online store you purchased from. Thank You for Visiting!