Baby Shower Gift Baskets
Baby shower gift baskets are the most classic gift to give at a baby shower. Who would'nt like to recieve one? And they are almost always sure to evoke an erruption of "oohs" and "aahs" from the rest of the guests.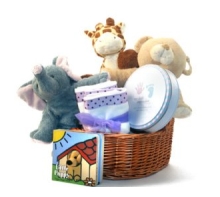 Choosing such a gift also leaves you wide open for a plethora of baby gift giving options! This kind of gift is available in just about every theme, color, and style. From making your own baby gift basket, to choosing from all sorts of ready-made unique baby gift baskets, your options are practically limitless. I want to bring you the best ideas and selections of baby shower gift baskets.
The burning question? What would you like to receive in your very own baby gift basket? Has someone given you a baby gift basket before? Care to tell us about it?
And also, have you shopped for a baby gift basket before? What was your experience like? Help out other baby gift shoppers and give them the down low! Share some feedback!
Baby Shower Gift Basket Ideas
Making Your Own Baby Gift Basket
The best way to get a perfectly personalized and custom baby gift basket is to make your own! But you need to put a little thought to it. Some planning and finesse is involved. Pick a theme, color scheme, or style, and run with it!
More about making a baby gift basket...



---
Unique Baby Gift Baskets
Looking for something a bit different? I myself like to try to think a little outside of the box when I am on the hunt for a baby gift basket. Great inspiration for those putting them together by hand as well.
Check out some unique baby gift baskets...



---
Natural Baby Gift Basket
Baby gift baskets with all natural baby products, organic and green products. The perfect gift for any environmentally conscience, earth friendly mama, or any mama who simply wants the safest products possible for her baby.
Organic and natural baby gift basket ideas...



---
Baby Book Gift Basket
Great for mom and baby! You can put together great custom gift baskets around some of your favorite themes. Where to shop for some of the best book gift baskets on the net.

Baby book gift basket ideas...



---
Bath Time Baby Gift Baskets
What could be more appropriate for any new Mom? So fun and so many options for cute and unique themes. A practical yet super fun baby gift theme!

Baby bath time gift basket ideas...



---
Baby Toys Gift Baskets
Even newborn babies need a little stimulation and fun. Baby and newborn toys are great bonding activities for Mamma and Baby too. Put together a fun baby toy gift basket or fill her up with great educational toys!



---
Baby-shower-gift-ideas.com merely shares thoughts and opinions on baby products and baby gift ideas and cannot be held liable. If you happen to be disatisfied with a product or gift you purchase please take any complaints or refund requests to the company or online store you purchased from. Thank You for Visiting!