Baby Cribs
Baby Cribs Guide, Feedback, and Reviews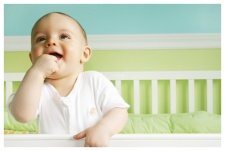 Purchasing a baby crib for the expecting momma in your life is the ultimate in baby shower gifts, and a very sweet and caring gesture as well. A great way to show that you really care is to take great steps in making sure that the crib you choose is the safest crib you can find, and it doesn't hurt if it is the best value for your money, either. Crib safety is a huge concern for many new and expecting mothers, as there have been several crib recalls, and even infant deaths caused by faulty cribs, in recent years past.

I've been there. I received a crib for my baby shower when I was pregnant with my daughter, also my first baby. The crib was beautiful and seemed lika a great value for the price. Less than a year later the crib was on the recall list. I did some research and learned that several babies had lost their lives due to this crib. Very scary stuff for a new mom with no money to buy a new crib at the drop of a hat.

I'd like to take some of the guess work out of buying a crib, and help you find the best choice to fit your needs. Here I'll cover the different types of baby cribs, options in style and function, as well as safety. Have you had some experience with some modern cribs that you either loved, or well, not so much? We'd love to hear from you! Our readers would love to hear your feedback and opinions as well. Buying a crib can be a big deal and for careful moms, takes some planning and research. Help other moms and moms-to-be in their quest to find the best baby crib by leaving your reviews and feedback.







Different Types Of Baby Cribs
Standard Traditional Style Crib
1. Single Side Drop Down Crib
2. Double Drop Side Crib
3. Stationary Sides Baby Crib
There are a few different types of cribs available as far as the standard or traditional style crib is concerned. The most popular you will find is a single drop-side crib. For a substantial bit more money you can also get a crib with double drop down sides. Most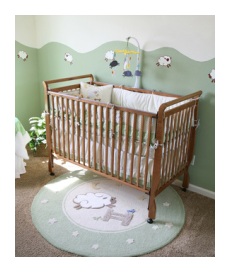 of these models of cribs also have a adjustable mattress level function.
To be quite frank, I don't see the point of the double drop side unless you are keeping your baby's crib in the middle of the room, or if you have twins. Furthermore, drop side cribs seem to be the center of some debate as they are the major cause of so many crib recalls. It seems that in many models serious poblems are occuring with the drop side.
I, myself, opted to go for the super simple route last year when my son outgrew his bassinette. I bought a no frills crib with no drop down sides. It didn't even have an adjustable mattress level. I haven't had a single problem with it and I have had the piece of mind from the start that no harm could come to my baby from sleeping in his own bed. Oh, and it was under $200 to boot! Can't beat that!!
The crib I bought really was the most simple you could possibly get. But there are standard stationary side cribs that are still stylish and beautiful to look at. They also have many models that include the adjustable mattress level function, which many find to be quite convenient.
Convertible Baby Cribs
1. 2 in 1 crib
2. 3 in 1 crib
3. 4 in 1 crib
Convertible baby cribs are cribs that can be converted into more appropriate sleeping arrangements for your child as it grows. Thay are made to become toddler beds, day beds, and even become a full size bed with a head and foot board.
Portable Baby Cribs
Portable cribs are made for ease in moving the bed from room to room, to take to grandma's house, or to conserve space as they can be folded up to fit into small spaces like slid under a bed or into a large closet. They usually come with wheels for ease in moving, and are ultra light as well. Not a bad choice for apartment living, or just as an extra for trips and around the house.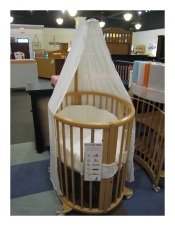 Round Baby Crib
Round cribs are mainly to please a style aesthetic than anything else. It's a staple in any posh and trendy baby nursery. They also tend to be on the expensive side, altough I have seen them here and there at more affordable prices. These cribs range in style from simple and modern like the one shown here to super ornate. Which also tend to be on the high price range.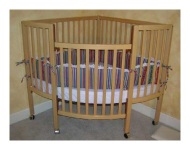 Corner Baby Crib
A corner crib is rounded at the front and angled at the back to fit into the corner of the room. These are great for conserving space for a grand parents house or city and apartment dwellers. Some of them fold up as well.



If you are researching buying a new crib then you will also need to find a crib mattress. There is a lot of research to do on this subject as well. For some crib mattress buying tips that will help you choose the perfect mattress for your precious baby be sure to visit www.crib-mattress-guide.com.



What Style And Model Of Baby Crib Are You Using?
All Moms have owned or currently do own a baby crib. Tell us about yours! Do you love it? Hate it? Share your opinions, the pros and cons, and your overall experiences with owning and using your baby's crib.
Got a crib that was recalled? We'd love for moms to weigh in on this issue as well. Crib safety is such a huge issue weighing on the minds of many moms and new moms-to-be. The more knowledge we have to arm ourselves (and our babies) the better!
What Other Visitors Have Shared
Click below to see contributions from other visitors to this page...

Ikea Gulliver Crib

I received a convertible 3 in 1 crib fro my baby shower a few years ago (cannot remember which brand) and it ended up being recalled. Scared me to death! …
Baby-shower-gift-ideas.com merely shares thoughts and opinions on baby products and baby gift ideas and cannot be held liable. If you happen to be disatisfied with a product or gift you purchase please take any complaints or refund requests to the company or online store you purchased from. Thank You for Visiting!