Baby Strollers
Everything To Know About Baby Strollers and Baby Stroller Reviews
At some point or other every Mom will need to use a stroller. In fact, most new moms will find a need to own several different types of strollers over time as baby grows. Not to mention different types of strollers for different activities and situations. Your stroller will become a lifesaver and a boon to freedom!
Here are some of the different types of strollers and their uses:
The Infant Travel System
The travel system is the very first type of baby strollers that you will own and it is a serious must have. A baby travel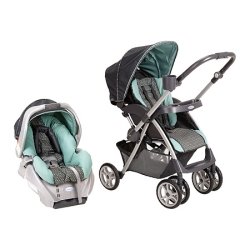 system is an all in one stroller, car seat, baby carrier combination. The car seat/baby carrier is made to fit and snap into place inside of the stroller, as well as a car seat base that you install to the back seat of your car. You can easily move baby from house to car, and from car to stroller for easy trips to the doctor or a shopping trip. The convenience the travel system affords you is invaluable! Think of the times that baby may be sleeping! You can move her from car to stroller, to the house, or even through entire shopping trips without ever disturbing her sleep! My daughter had a bit of colic, and was ingeneral a very fussy baby, and my travel system just about saved my sanity! Not to mention that she fought sleep with every ounce of determination she had in her little body! I LOVED just putting her in her car seat and going for a walk or ride in the car, and easily move her right into her nursery without waking her up!
Once your baby outgrows the car seat the stroller can be used as is, without clipping the car seat into place, which is great for long time use of the product. The only downside? The travel system baby stroller is generally a bit on the heavy side. I recommend trying a few out at the store. Make sure and try clicking the carrier seat in and out if the stroller a couple times to make sure it is easy to do, and stays put easily too. You will also want to try folding and unfolding the stroller to check the ease of use, as well as lifting it while it is folded. Remember, you will spend an aweful lot of time folding and unfolding, as well as loading and unloading this thing into your car. Find the right one for you!
I only ended up using the stroller part of the travel system for a couple months after my daughter outgrew her carseat. I found that it was a bit heavy and bulky for going on outings. But is was great for leaving by the back mudroom for local walks and trips to the park on foot.
Baby Pram
A Pram is great for infants, however I never found them terribly useful as my babies seem to grow out of them pretty quickly. A baby pram reminds me of a bassinette on wheels. And really, you can use them just for that. A pram is useful when your baby is too young to hold his head up, or sit up on his own. You pace your baby inside laying down. A very cozy and secure ride that is very conducive to nap time. :-)




Full Size Baby Strollers
A full size baby stoller is the standard stroller that comes within a travel system. These baby strollers are big and roomy, with a lot of conveniences like a cup tray for Mom, a play and bottle tray for baby, as well as underside storage for a diaper bag and anything else you may be carrying. Full size strollers are great to start out with, when baby is still really small and you have a lot of stuff to carry with you. The only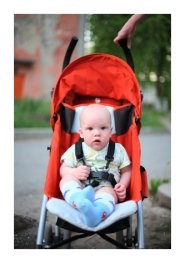 downside is their size. If you are stuck lugging them around and in and out of your car, it can get tiresome. Although, even after graduating to a lighter stroller like an umbrella stroller, I still keep my full size stroller around the house for quick walks around the neighborhood and to the local stores.
The Umbrella Stroller
Umbrella baby strollers are typically the next step up in types of strollers most Moms would buy, after the travel system, pram, or full sized stroller. Umbrella strollers are generally affordable and are super light for easy storing and travel. Much lighter and easier to use than full sized baby strollers. They are called "umbrella" strollers because they fold up easy just like and umbrella! However easy, you do not want to try to use one until your baby is well aquainted with holding themselves up in a sitting position. You could possibly get away with using it a little bit earlier if you keep it in a slightly reclined poisition and use a head positioning pillow (like the ones they sell for newborns to fit in their carseats.
Jogging Strollers
Jogging strollers are typically thought of as a stroller for athletic and active moms. I bought my first jogger in an attempt to inspire me to exercise more. I am so not the super active gym going type of mom! I mean, I'm healthy. I'm Active. I eat a healthy diet, but you probably won't see me at the gym burning calories 3 days a week or anything. So the attempts to actually jog didn't go too far. lol! BUT, I will say that I found A LOT of use for this stroller and was very glad I purchased it. No I'm not an active runner, but I do like to go on walks, go to the beach, walk trails occasionally, stuff like that. I found there were so many places that I frequented that were a huge pain in the butt with a regular umbrella stroller. I actually started storing both the jogger and umbrella stroller at the same time! Any place I wen that had even slightly uneven or rough terrain (even grass) I bought out the jogger!
The Double Stroller
Of course the first thing you think of when you see a double stroller is twins! But what some people are not thinking of, and apparently some of these people include those who make the strollers, is that a very large group of those purchasing these strollers is buying it for siblings who are not twins. I had my kids pretty close together in age. I'm not talking Irish twins or anything, but less than 2 years apart. I definitely needed a double stroller. What I found when I started researching and shopping for one, is that A. there arent all tyhat many to choose form, and B. many of them are made to carry twins and small children at that. What did this mean for me? For one, I could fit my younger smaller baby in the stroller just fine, but my 2 year old would not fit. So I had some research to do! What I found was that there are several different types of double strollers, each with their own pros and cons. Do your research! And make sure and try them out in the store before you buy. Buckle both kids into the seats. Check the restraints, fold and unfold the stroler to check for ease os use. And lift it to access whether it's weight is adequate for your needs.




---

Have you recently tried a stroller that you loved? Or maybe one that you really didn't like at all? Leave a review of the best (or worst) baby strollers that you have ever used and help out others in thier quest for the perfect stroller!
---
Baby-shower-gift-ideas.com merely shares thoughts and opinions on baby products and baby gift ideas and cannot be held liable. If you happen to be disatisfied with a product or gift you purchase please take any complaints or refund requests to the company or online store you purchased from. Thank You for Visiting!