Organic Baby Gifts
By giving organic baby gifts you are showing your expecting mom not only that you care about her, but about her baby and the world she or he will grow up into.
Maybe the mom to be is very earth conscience or maybe you would like to encourage her to be. Buying your organic gift locally is the best earth friendly option, but for those of you not within close proximity to a shop carrying organic baby products, here are some great natural, green, and organic baby shower gift ideas.




Organic Baby Gift Baskets and Sets


Giving a gift basket is a very convenient form of gift giving. You can make your own gift basket or simply purchase one online filled with some of the best and most useful baby shower gifts.






Organic Baby Skin Products



Help protect that precious baby skin with natural and organic baby skin care products free of harmful additives and chemicals. Some of the top picks in natural baby skin care and some gift sets as well.

Organic Baby Toys



With so many baby and children's toy recalls going organic is going safe! Organic baby toys gift ideas...

Organic Baby Clothing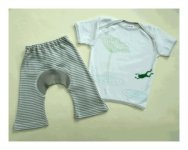 Why would you want to put anything less than natural and 100% organic cotton clothing next to a baby's sensitive skin? And remember, just because it is organic does not mean it has to be boring!!
organic baby clothes gift ideas...


Organic Cloth Diapers


Cloth diapers reduce your carbon footprint and keep harmful chemicals from laying on baby's skin. Why not go a step further and make sure all of your cloth diapers are organic as well?!


Organic Baby Bedding


100% organic cotton and bamboo baby blankets, sheets, and bedding sets, and more. Browse through organic baby bedding gift ideas...

Organic Crib Mattress


Baby will spend many, many hours on her crib mattress. Keep baby safe from harmful substances with a natural and organic baby mattress.

Baby-shower-gift-ideas.com merely shares thoughts and opinions on baby products and baby gift ideas and cannot be held liable. If you happen to be disatisfied with a product or gift you purchase please take any complaints or refund requests to the company or online store you purchased from. Thank You for Visiting!