The Best Diaper Bag
Looking for the best diaper bag for your budget? Here are our top picks based on consumer reviews and recommendations from our readers. Is there a diaper bag you think we should have added to this list? Let us know or simply add your own diaper bag review!





Our Top Picks For The Best Diaper Bag



Shoulder and Tote Style Diaper Bags
Under $50.00 Range...
The Gerber Fashion Tote
This is such an affordable bag for a first time mom who isn't really sure what kind of diaper bag may suit her needs yet. At around $22.00 retail you can afford to buy a better one if you decide that this one just isn't right for you.
This is a medium sized diaper bag. The best feature is that there is a TON of pockets on this diaper bag. There are pockets for everything from diaper storage to bottle storage, and in between. Lots of different sizes and depths. It is durable and water resistant. Mom's have reported that it is very easy to clean.





$50-$100 Range...
The Weekender By Kalencom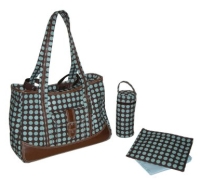 I have heard and read nothing but rave reviews about the Weekender! This is a mid price range diaper bag retailing at around $70. The Weekender is a zip closure bag with tons of compartments and pockets. It comes with a changing pad and a attachable bottle pocket bag.
It has been reported that this bag is very well made and will stand the test of time, lasting right through the toddler years. It is stylish enough to use as a purse afterwards as well. Instructions say to spot clean but one of our readers said that she had machine washed hers on a gentle cycle (inside out) and let it air dry, and the bag held up perfectly.





Higher Range $100+
OiOi Diaper Bag Jacquard Carry All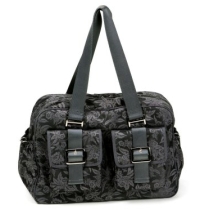 This bag is on the higher end on the price scale at around $140.00 retail, but with the heftier price you also get QUALITY! The bag is made from a microfiber jacquard fabric, with zipper and magnetic closures. TONS of pockets and plenty of room for baby and mommy stuff. It also comes with a changing pad and an insulated bottle holder for hot or cold beverages (warm formula or breast milk). Moms report this bag is stylish AND practical, and most report that they would recommend it to anyone. Also, it is a very stylish bag without being too flashy. So get ready for lots of compliments on the street. :-)









Messenger Style Diaper Bags
Under $50.00 Range...
Carini Bambini Flap Messenger Diaper Bag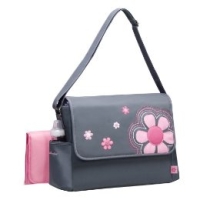 The Bambini bag is made from a nylon material so it is super easy to clean. A big plus in my book when it comes to baby bags. If it doesn't wipe clean easily it better be able to go in the wash ;-)
This bag is super affordable at around $25.00. It has plenty of pockets for all of baby's items, and comes with a changing pad. Not to mention that it is really cute too!



$50-$100 Range...
Diaper Dude (and Diaper Diva) Diaper Bags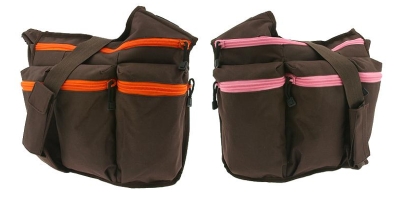 Pretty much anyone who has owned a Diaper Dude bag has great things to say about these bags. Not only are they the BEST diaper bags for dad, but they are of very high quality for a very reasonable price. But don't let the name fool you. They have a few very cool bags for "Divas" too, and I'm sure there are quite a few mammmas out there who could easily rock the "dude" bags as well. I think of Diaper Dude bags as THE go-to diaper bag.



Higher Range $100+
OiOi Messenger Diaper Bag


The stylish messenger bag! At about $125.00 for the OiOi messenger diaper bag, it is on the higher end, but matches in construction, quality and durability. And is it ever eye catching!? I Love the Pink Floral Bouquet! Moms testify that this bag is super easy to clean and has plenty of room without being bulky or heavy. And, it makes you feel like one hot mamma when carrying. :-)







Don't Forget To Leave Your Diaper Bag Review!
Have you tried any of the bags here and want to add your two cents, or the pro's and con's I might have passed over? Or maybe you know of a diaper bag that shoudl be on this list. I'd love to hear from you! Help out future Mom's and those searching for the perfect baby gift idea or simply the best diaper bag available.
Leave your own diaper bag reviews
!
Baby-shower-gift-ideas.com merely shares thoughts and opinions on baby products and baby gift ideas and cannot be held liable. If you happen to be disatisfied with a product or gift you purchase please take any complaints or refund requests to the company or online store you purchased from. Thank You for Visiting!