Baby Diaper Reviews:
Costco Kirkland Signature Supreme Diapers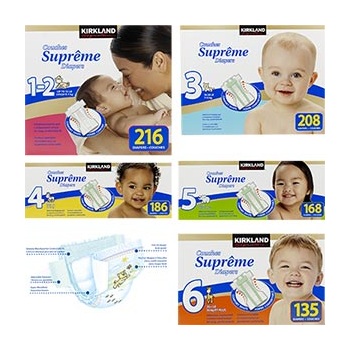 Kirkland diapers offer all around stretch, hypo-allergenic, super absorbency all at a low and affordable price.
Also latex free with super soft cotton inside and out, as well as contoured shaping for active babies.


Leave Your Review


Do you shop at Costco? Ever buy their diapers? We'd love to hear what you have to say about them.
We'd love it if you used our 5 star rating system to rate your overall opinion of this brand of diapers. Even better if you could include our rating system by adding your score of 1 - 5 for the following categories - absorbency, comfort, durability, price, and availability.

To leave your review simply click where it says "click here to post comments".
Baby-shower-gift-ideas.com merely shares thoughts and opinions on baby products and baby gift ideas and cannot be held liable. If you happen to be disatisfied with a product or gift you purchase please take any complaints or refund requests to the company or online store you purchased from. Thank You for Visiting!